All Shapes and Sizes
Scars come in all shapes and sizes. Lasers are particularly good at improving red scars, in which they will remove the red color as well as significantly improving their texture.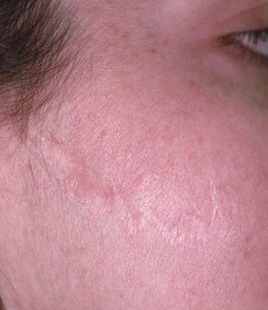 Results of Treatment
Scar treatment requires 1-4 treatments at 2-3 month intervals, and they are IMproved by laser treatment but not REmoved.
About Scars
Scars come in all shapes and sizes. Lasers are particularly good at improving red scars, in which they will remove the red color as well as significantly improving their texture. Keloids are large thick scars that extend beyond the boundaries of the original wound, and hypertrophic scars are their somewhat smaller cousins that conform to the size of the wound but are also thickened. Keloids and hypertrophic scars are often best treated by injecting corticosteroid medicines into them at monthly intervals. This will shrink them considerably, although the first few injections may not make much of a difference, sticking with the monthly injections can lead to dramatic flattening of raised scars.
Once a keloid or hypertrophic scar has been injected enough times to cause it to flatten out, there may often be more redness than was present originally, but not to worry, lasers take care quite effectively. Keloids and hypertrophic scars should be looked at as problems of inflammation that are 'living' things, not just lumps of collagen. This is important because many very large keloids often result from surgically excising smaller ones. The excision causes more inflammation, which causes and maintains keloids in the first place. The inflammation is why keloids often itch or hurt, evidence that they are still active.
Scars, often in addition to being red, will have increased brown pigmentation (hyperpigmentation). The reason this happens is unclear but likely inflammatory mediated as well. To treat brown-colored scars I often prescribe topical creams to lighten this discoloration prior to, or during, a series of laser treatments, and will use Q-switched or picosecond lasers to remove the pigment. If further textural improvement is desired after removing all or most of the redness in a scar, I will switch to a fractionated (makes tiny pinpoint injuries in the skin) non-ablative or ablative (CO2) laser to further improve the texture of a formerly red scar, or to treat scars without any redness. Burn scars are often treated with fractionated CO2 lasers. Acne scarring on the face and elsewhere responds very well to laser treatments, and often a combination of lasers is used including both vascular and fractionated non-ablative lasers. The Fraxel Dual® is a mainstay for improving acne scars.
Did you know?
Dr. Bernstein was the first physician in the WORLD to use the V-Beam Prima® and V-Beam Perfecta® lasers and has published numerous peer-reviewed articles on their use.
HOW DOES LASER SCAR TREATMENT WORK?
Thicker scars need to be treated with injected corticosteroids and monthly intervals to soften the scars and flatten them. Flat scars can be treated with lasers immediately. Vascular lasers are used to remove redness from scars as well as improve their texture. Because red scars absorb the yellow/orange or green light emitted by vascular lasers, the vessels are removed, and the resulting inflammation improves the texture of scars. Scars without redness will not take up much light from vascular lasers and must be treated by fractionated lasers like the Fraxel Dual®, CO2RE® or Ultrapulse® lasers which make small microinjuries to the skin and stimulate reorganization of the disordered collagen bundles within a scar.
WHY IS MY SCAR RED AND BROWN?
The inflammation that occurs with wound healing creates extra blood vessels in scars making them red and extra pigment making them also turn brown.
WHY DOES MY SCAR NEED INJECTIONS?
If scars become thickened as keloids or hypertrophic scars, scars must be flattened by corticosteroid injections to reduce the inflammation in a scar and flatten it. Normally when using corticosteroids to treat various skin conditions like eczema or allergic contact dermatitis, such as poison-ivy, we try to limit their use to prevent skin thinning or atrophy. This is precisely the affect we are looking for when we treat scars with injected corticosteroid medicine.
HOW MANY INJECTIONS WILL I NEED FOR MY SCAR?
Corticosteroid injections work slowly over time, which isn't great as everyone is in a hurry to fix a scar that has often been present for years. The first few injections may not show much of an improvement, as when a scar is first being treated, it is quite firm allowing very little of the medicine to get in. Over time, the scar softens, and more corticosteroid medicine can get in, hastening the flattening process.  Generally, injections are administered at monthly intervals often for 2-6 months. Once flat, and redder due to the effect of the corticosteroid medicine, the scar is ready for laser treatment.
HOW MANY LASER TREATMENTS WILL I NEED?
Typically, scar treatment requires from 1-4 laser treatments at 2-3-month intervals.
DOES LASER ACNE SCAR TREATMENT HURT?
Laser treatment of scars doesn't hurt much at all. Scars often have less feeling than surrounding skin.
WHAT ARE THE COMMON SIDE EFFECTS?
After laser treatment the scar usually looks redder than before treatment and often has bruises in the previously red portion of the scar. Bruises can take 10 days to 2 weeks or more to resolve, but they always resolve.
WILL MY SCAR BE REMOVED?
Scars are IMproved by laser treatment but not REmoved.
HOW DO I CARE FOR THE TREATED AREA?
Most scars are red and possibly bruised after laser treatment. You can apply petrolatum (Vaseline® or Aquaphore®) followed by a bandage to keep the area moist and speed up healing.
CAN LASER TREATMENT OF SCARS IMPROVE RANGE OF MOTION?
Yes. Lasers soften scars and can improve range of motion when scars restrict movement. This is particularly true of burn scars.