Young and Cute. Older and Remove.
Freckles are small brown spots we acquire from the sun. When we are young and only have a few, they look cute. As we get older and they multiply we often want them removed.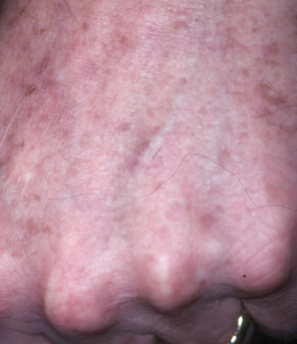 Results of Treatment
The best lasers for treating freckles are the lasers we  use to treat tattoo removal including the Q-switched lasers and the picosecond lasers.
About Freckles
Freckles are small brown spots we acquire from the sun. When we are young and only have a few, they look cute. As we get older and they multiply we often want them removed. Since freckles result from localized pockets of differently packaged melanin pigment, they can be targeted by many different types of lasers. The reason for this is that melanin is designed to absorb light, the ultraviolet component of sunlight. However, melanin is amazing stuff and can absorb all colors of light out into the infrared wavelengths that are literally at the opposite end of the spectrum from UV radiation. This means that any wavelength, or color, of laser that is reasonably well absorbed by melanin can be used to remove it.
The first thing to do is visit your dermatologist to look at the spots on your skin, all of your skin, to be sure there are no skin cancers that need treating. The same sun that causes freckles also causes skin cancers. Then you can head to a dermatologic laser surgeon for freckle removal, as it's best to have a doctor that knows what he or she is aiming the laser remove freckles. There's no point in removing freckles unless you wear sunscreen every day, as you need to prevent new freckles if you're bothering to remove ones you already have. Also, we get a ton of sun-exposure in our cars. In fact, most of us spend the majority of 'outside time' in the car, sadly. This means we need CLEAR Llumar® or 3M® professionally applied UV-blocking window film put on our car to keep out the UVA rays.
Topical creams, serums and lotions that remove some unwanted pigment and rejuvenate sun-damaged skin including the alpha-hydroxy acids (AHAs), like glycolic acid, and retinoids, like Retin-A®, can lighten freckles and unwanted pigmentation. The best lasers for treating freckles are the lasers we use to treat tattoos including the Q-switched lasers and the picosecond lasers. At Main Line Center for Laser Surgery, we have numerous Q-switched and picosecond lasers including: the Wavelight® Ruby laser, the Con-Bio Revlite® SI laser, the AlexTrivantage® laser, the PicoWay® laser and the PicoSure® laser. Some people use IPL to treat pigmentation, but we don't use those devices as they are not lasers and often target normal skin and nevi (moles) that we don't want to treat. The Q-switched and picosecond lasers can target the freckles only while leaving normal skin and things we don't want to treat untouched.
Did you know?
Dr. Bernstein was the first physician in the WORLD to get the PicoWay®, PicoWay® 785 nm, and PicoWay® 730 nm and AlexTrivantage® lasers, the first in PA and one of the first in the U.S. to get the Wavelight® ruby laser and the first in the tristate area (PA, DE, NJ). He has published extensively on their use.
Freckle Laser Removal FAQs
WHY DO I NEED TO SEE A DERMATOLOGIST BEFORE REMOVING MY FRECKLES?
Freckles come from sun-damage, the same thing that causes skin cancer. It's important to see a dermatologist once a year (or more) to look for skin cancer. Dermatologists can help distinguish between freckles and other marks and skin cancer.
WHO IS BEST TO REMOVE MY FRECKLES?
The best person to remove freckles is someone well-versed in using lasers and who can distinguish best between skin cancers and freckles and other marks one is treating with a laser. This would be a board-certified dermatologist.
WHAT CAN I DO TO PREVENT MY FRECKLES FROM DARKENING OR FROM MAKING MORE?
Freckles come from one thing-SUN EXPOSURE. An SPF 30 or higher sunscreen should be worn every day. When at the beach, a water-resistant sunscreen, such as a 'sport' version of common sunscreens like Coppertone® or Hawaiian Tropic® is best and should be re-applied after swimming. CLEAR UV-blocking window film should be professionally applied to one's car windows to keep UVA out.
WHY IS WINDOW FILM IMPORTANT, CAN DRIVING TRULY EXPOSE ME TO THE SUN?
Unfortunately for most of us, we spend the majority of our time 'outside' in a car, unless you live in a large city like New York and walk a lot. Although window glass blocks the burning UVB rays, about 70% of UVA passes through car windows. UVA is great at causing our skin to pigment. CLEAR UV-blocking window film keeps 99% of UVA out, and because it's clear it won't inhibit our ability to see at night. Companies like LLumar® and 3M® make film that can be professionally applied to our cars.
WHAT IS A LENTIGO?
A lentigo is a brown spot that is usually larger than a freckle and sometimes can appear or feel slightly raised. It's important for a dermatologist to look at these spots and determine they are not skin cancer, just as it is with freckles. Sometime lentigos get a tiny bit thickened and these may be resistant to removal by lasers. Lightly freezing these spots with liquid nitrogen, often a couple of times at 6-8-week intervals will remove them in most cases. When they persist or recur, it is often at the active border, creating a doughnut appearance. People often assume that the doctor 'missed' the border, but because the rim is actively growing in many cases, this is the area that is naturally resistant or prone to recur.
WHY SHOULD I USE TOPICAL PRODUCTS BEFORE LASER TREATMENT?
Topical products such as the alpha-hydroxy acids (AHAs), like glycolic acid, or retinoids like Retin-A® can help lighten freckles prior to treatment, and even completely remove them. The ones left behind can be treated by laser. In addition, freckles pre-treated with a retinoid or AHA tend to heal more quickly after treatment.
DO I NEED TO CONTINUE USING TOPICAL PRODUCTS AFTER LASER TREATMENT?
It's important to use sunscreen every day and topical AHAs or retinoids at night, depending upon your skin type. Unlike laser treatment that are administered periodically, topical treatments used every day keep your skin looking youthful and can prevent the appearance of new freckles and lentigos.
WHAT AREAS OF THE BODY CAN BE TREATED?
Freckles and lentigos and their cousins seborrheic keratoses can be treated anywhere on the body. Generally, the skin returns back to normal most quickly on the face and more slowly the farther it is from the face.
WHAT IS A SEBORRHEIC KERATOSIS?
Seborrheic keratoses (SKs) are very common brown, waxy, scaly bumps on the skin. They occur anywhere on the body and are quite common on the trunk. They often give the appearance that they can easily be picked off, and that they were 'stuck-on'. As with freckles and lentigos, it's important for to have a dermatologist look at any brown spots or growths to evaluate them for skin cancer. SKs are best treated by freezing with liquid nitrogen a few times at 6-8-week intervals, or by being scraped off, by a dermatologist.
WHAT DO FRECKLES LOOK LIKE AFTER LASER TREATMENT?
Lasers target and heat the melanin pigment in freckles. As a result, freckles will turn dark brown after treatment and may feel slightly scaly after a couple of days. They often look like coffee grounds. Following treatment they peel off over 1-2 weeks leaving skin that often lighter and pink, or in more darkly pigmented people they can leave temporary whitening or darkening of the skin. These pigment changes are temporary, and AHAs or retinoids hasten their improvement.