Conditions
Laser Hair Removal
Most Common Areas for Women
We often grow hair where we don't want it, and lose it were we do want it. The most common areas where women seek laser hair removal are the lip and chin, underarms and bikini area.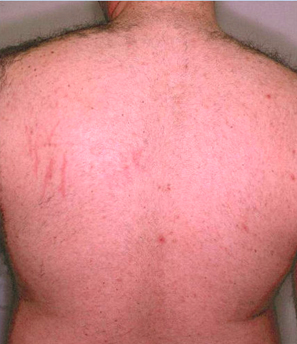 Results of Treatment
Depending upon the areas, treatments are ideally administered at 6-8 week intervals, and often a series of 4-6 treatments is required to reduce the hair over the long term.
About Laser Hair Removal
We often grow has where we don't want it, and lose it were we do want it. The most common areas where women seek laser hair removal are the lip and chin, underarms and bikini area. Laser hair removal is also ideal for large areas such as the legs. The first thing for most women to do before embarking on a removal program is to determine that the cause of the hair growth is not hormonal. Women experiencing hair growth in areas such as the face, breasts or chest, or experiencing symptoms that might indicate a hormonal imbalance such as irregular menstrual cycles or severe acne, should consult their physician to determine if there is a hormonal imbalance prior to embarking on a course of laser hair removal. A hormonal imbalance responsible for hair growth is often easily treated, and can improve the effectiveness and duration of laser hair removal treatments.
Laser hair removal has been revolutionary in managing excess hair growth, and is effective in removing hair from virtually any area of the body including: the underarms, bikini, lip and chin, jawline, legs, back, and stomach. We do not use hair removal lasers around the eye or to treat monobrow, as these lasers penetrate deeply and should be kept away from the eyes. Hair removal lasers exploit the difference in color between the hair shaft and the surrounding skin, and thus the lasers 'see' the dark pigment of the hair shaft and heat it, causing the hair to enter a prolonged resting phase. Therefore, it's best not to be tan when receiving laser has removal treatments, so the laser can 'see' the hair without 'seeing' the skin. Because hair removal lasers target the pigment in hair shafts, white or blond hair does not respond to laser treatment. Lasers are absolutely ideal for treating large areas, such as the legs, back, underarms and bikini area. Shaving bumps that can occur after shaving or waxing respond extremely well to laser treatment. These bumps often resolve before most of the hair in an area is even gone, because after even a single treatment the hair that comes back is thinner and less likely to result in shaving bumps.
Normally, a series of laser treatments is required for significant hair reduction in a given area. Generally, depending upon the areas, treatments are ideally administered at 6-8 week intervals, and often a series of 4-6 treatments is required to reduce the hair in areas over the long term. Then longer and longer intervals are required to keep all of the hair away. These intervals ore often measured in years. After a single treatment there will be a significant reduction in hair diameter and density that persists for years, but complete removal always requires a series of treatments.
There are 3 main types of hair removal lasers, and I will often use all 3 in a single person over time, depending upon how tan they are, the diameter of the hair and other factors. Patients with light skin or hair often respond best to the alexandrite or diode laser, since these lasers are strongly absorbed by melanin pigment. There is a special type of laser that works best on skin color, the Nd:YAG laser. This laser is best at ignoring the pigmentation in skin, while still targeting the hair shaft, and this is the safest laser to use on more darkly pigmented skin types.
To answer your specific questions or schedule a consultation, call Dr. Bernstein today at 610-645-5551.
Did you know?
Dr. Bernstein was the first physician in the U.S. to have the GentleMax® Pro, GentleLase® Pro, Deka Synchro® HP lasers, and Elite® MPX lasers. Dr. Bernstein published one of the first studies on the Elite® MPX laser.
HOW DOES LASER HAIR REMOVAL TREATMENT WORK?
The procedure uses beams of light to penetrate the skin and target the pigment in the hair shaft and induce a mild inflammatory response in the hair follicle that signals the hair to rest for a very long period of time.
WHO IS A CANDIDATE FOR LASER HAIR REMOVAL? WHO IS NOT AND WHY?
Although initially laser hair removal worked best for people with light skin and dark hair, different lasers can now be used to perform the procedure on people with any skin type. Unfortunately, treatment is next to impossible for people with blonde or white hair because the laser targets the pigment in the hair shaft. If there isn't any pigment, or very little, there's nothing for the laser to 'see.'
WHAT ARE THE ADVANTAGES OF LASER HAIR REMOVAL COMPARED TO OTHER METHODS?
Laser hair removal is much quicker than any other hair removal method and requires far fewer treatments than non-permanent methods of hair removal. There is no other practical way to permanently remove hair from large areas such as the legs and back, and no more convenient way to control hair in the bikini and underarm areas. On the face, the need for very few treatments after an initial 4-5 treatments means that there won't be bumps or redness for a long time, since treatments can be spaced 6-12 or more months following an initial set of treatments.
HOW MANY LASER HAIR REMOVAL TREATMENTS DO I NEED?
Typically, people require 4-6 treatments of 6-8 week intervals to remove all the hair for larger areas, like the legs or back. Treatments are done at slightly longer intervals and less frequently to completely eliminate hair. Maintenance treatments are always required and may be needed from 6 months to years after treatment. The more treatments one has, the longer the interval between maintenance treatments.
IS LASER HAIR REMOVAL PERMANENT?
Laser hair removal lasts a very, very long time in most people. After only a couple of treatments (say 1 leg and not the other) there will be less and thinner hair on the treated side for a long time. To have NO hair, an initial series of 4-6 treatments is needed of 6-8 week intervals, followed by maintenance treatments of 6 months to a year or more depending upon the person or areas. There is a lot of individual variation and variation by areas of the body, but yes laser hair removal can be permanent.
DOES LASER HAIR REMOVAL HURT?
The first few treatments (when the hair is thickest and darkest) can be more uncomfortable than later treatments. I describe it as annoying for most people, although there is considerable variation between people and areas regarding the discomfort. Some people feel that it hurts, and men tend to think it hurts more on the back. I hear from many of my women patients that men are babies. I think we have more 'nerve endings', since, of course, we're tougher.
WHAT ARE THE POSSIBLE SIDE EFFECTS?
Side-effects of laser hair removal are similar to those following any laser treatment. The skin turns red or pink immediately following treatment, and bumps similar to shaving bumps can occur due to irritation of the hair follicle, something we are trying to accomplish. Irritated hair follicles resemble acne and can occur for a week after treatment. Temporary increased or decreased pigmentation can result after treatment, and is more common in more darkly pigmented patients, because the laser can 'see' the skin in these patients as well as 'seeing' the hair, even though the hair is an intended target and the skin is not. Blisters and scarring are very rare following laser hair removal when using the appropriate laser for a given patient.
WHAT AREAS OF THE BODY CAN BE TREATED?
Laser hair removal can be performed almost anywhere on the body, but many women undergo the procedure to remove hair on their underarms, face, bikini area and legs; while most men opt for the back, face and the neck where irritating shaving bumps occur. Shaving bumps respond extremely well to laser hair removal, and the bumps usually go away even before all the hair is gone.
HOW DO I CARE FOR THE TREATED AREA?
Generally, there is no specific after care for areas treated with lasers for hair removal. Very rarely, a topical steroid cream can treat the hive bumps that follow laser treatment, although it is this inflammation that does the work of removing the hair. Also, if one gets an acne-type reaction from irritation of the follicles, standard acne treatments can help, although they are rarely needed.
ARE MEN GOOD CANDIDATES FOR LASER HAIR REMOVAL?
Men with black or brown hair are excellent candidates for laser hair removal. The more common areas for treatment are the neck to treat razor bumps, and the back and upper arms.